Top IIT Institute In Patna
"समाज अपनी समस्याओ का निदान स्वयं कर सकता है "
       "हम इतने गरीब भी नहीं है की शिक्षा से पैसा कमाने की आवश्यकता है और इतने अमीर भी नहीं की अपने पैसे से समाज की समयसाओ का निराकरण कर सकें|
        इसलिए समाज के द्वारा समाज के लिए अभयानंद सुपर ३० की परिकल्पना की गई |
Our students' results say who we are
The institute has been a great name ever since its inception. We are known to produce great results every year. The founder and faculty members make sure that no students get ill treated. We are not running a business organization, the institute has been established to help those students who have potential but lack financial assistance. Abhayanand Super 30 will help you fulfill your dream.
Cracking IIT-JEE is not a kid's game, everybody knows it. But it's not that difficult that one can't crack it. If you have the potential to work then we are here to guide you.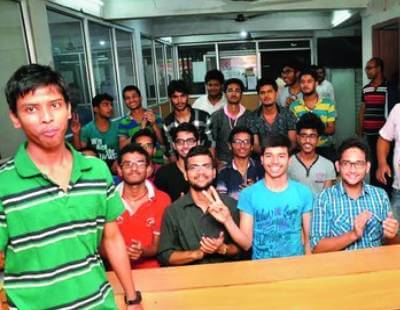 Want to enter a top medical college? Then join Abhayanand's Super 30, we are here to help you crack the so-called toughest exam, NEET.
What makes Abhyanand's Super 30 different from others?
Abhayanand's Super 30 is a premier coaching institute for the preparation of IIT-JEE and NEET.
We are among top ranked coaching institutes in Patna that offer high-quality entrance exam preparation and produce the finest results year after year. At Super 30 we provide the best academic support to the students and make it easier for them to meet their career goals.
Our highly qualified faculty members are committed to students' success. We offer such a competitive environment that fosters an ambitious spirit among students. Abhayanand's Super 30 is committed to empowering students and enhancing triumphant opportunities.
Frequently Asked Question
Here, are some of the frequently asked questions reagding IIT-JEE
Trusted by Thousand of Students and Parents
I have studied in other coaching centers as well but tutors like Abhayanand Sir are rare and admirable.
If you are looking for one of the best coaching centers in Bihar for IIT then visit Abhayanand's Super 30.
Super 30 run by Abhayanand Sir is not like other coaching centers who charge a heavy amount of money from students.